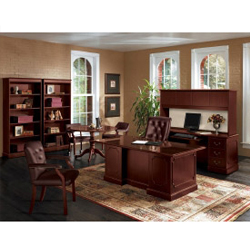 Enjoy the beauty of 18th century elegance and style combined with intelligent 21st century engineering. The 94000 Series offers the splendid look and feel of classic traditional furniture, along with the bonus of thoroughly modern easy-care laminate.
Classic details include high-gloss, high-pressure laminate tops for elegance and durability, traditional edge profile, raised decorative moldings, antique brass drawer handles and rich hardwood trim.
Convenient pullout writing slides, as well as wire mesh and glass door overhead storage make this attractive series functional and user-friendly, too.
Furnish your entire office using the full line of matching 94000 Series conference tables and coordinating chair collections.
94000 Series laminate desks meet SCS certification guidelines.