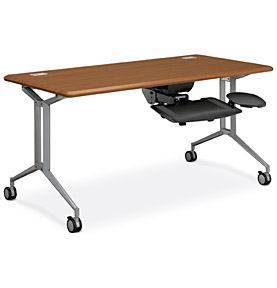 Ultramodern. Minimalist. Flexible. Perpetual is all that – and more. With a fresh open design that facilitates creativity and layout adaptability, Perpetual is the smart choice for today's evolving workplace. Mobility, efficient storing capabilities and high-tech features make it the smart choice to meet your training or meeting room needs.
Perpetual mixes a modern sensibility and stylish airy design with practical durability and functionality for a well-rounded line of tables and desks.
Designed to serve across the office, Perpetual is available in fixed, nesting, conference and occasional tables, as well as attractive desking components and coordinating chairs.
The perfect adaptable table for multi-purpose rooms that need frequent reconfiguring for training, conferencing and teaming or group applications.