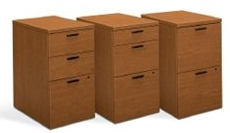 Laminate Mobile Pedestals
Collection: 10500 Series
Model Number: H105102, H105103, H105104
Get organized with our lustrous laminate finish files, pedestals and storage cabinets, all with customizable options for woodgrain color and edge profile. Designed to coordinate with your desk and other office suite components, these durable laminate files and cabinets hold everything. Beautifully.
Flexible units roll easily for optimal placement and quick access to contents.
For more room in the office, space-saving units may be positioned under peninsulas and modular shells.
Choose from a variety of different drawer formats to match your needs.