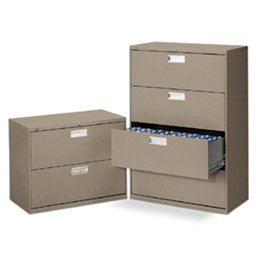 600 Series Lateral Files

Collection: Brigade™
Model Number: H672, H673, H674, H675

It's no wonder the 600 Series is one of the top-selling lateral files in America. It offers great quality at an exceptional value – and a lot of people have figured that out. It handles all the filing you have, yet doesn't take up much floor space. It stands up to heavy use, looks sharp and won't break the bank. Have you figured out where you'll put yours yet?

Dimensions: Dimensions vary

Withstands moderate to intensive daily usage without showing wear and tear.
Equipped with bright anodized aluminum pulls with label holder.
Easily adapts to your preferred filing method: side-to-side, front-to-back or combination filing.