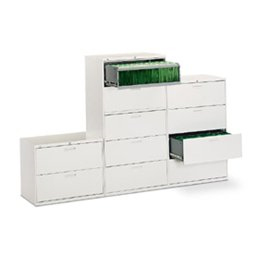 Lateral Files

Collection: 500 Series
Model Number: H572, H574, H582, H584, H585

Is it possible to love a lateral file? We think maybe it is. Our 500 and 400 Series lateral files inspire great devotion in offices where they're an essential part of the daily work routine. Since you have to file anyway, why not use a file that makes it as easy as possible? Available in drawer heights suitable for any office, they're a high-performance file system and a smart buy, all in one. What's not to love?

Dimensions: Dimensions vary

Ideal for the moderate usage of regular daily filing.
Equipped with color-matched drawer pulls with magnetic label holder*, lock and leveling glides.
*500 Series Lateral Files only
Optional laminate tops dress up your lateral files.