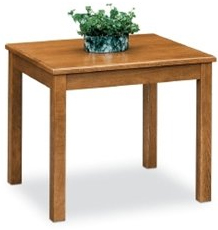 Veneer Straight Table

Collection: Veneer Tables
Model Number: H5193

While our rich veneer finish makes for an elegant surface, the richness doesn't stop there – these tables are elegant through and through. Built for performance and styled with sophistication, our veneer tables enhance the look of any room with polish and flair.

Dimensions: 24"L x 20"W x 20"H
Lustrous hardwood veneer tops and beautiful solid wood legs add richness and elegance to your office environment.
Useful, attractive occasional tables complement your office suite and complete the look of any room décor.
The same high-quality, high-gloss treatment as on our full-sized conference tables creates a well-matched, durable finish.