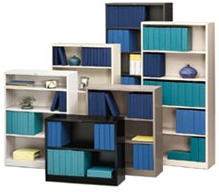 Steel Bookcases

Collection: Brigade™
Model Number: HS30ABC, HS42ABC, HS60ABC, HS72ABC, HS82ABC

Be it ever so humble, there's no place like a good steel bookcase. Eminently practical and useful, our steel bookcases are also a great value, with their long-life, heavy-duty construction. While they may not be flashy or fancy, they are available in a wide variety of colors, and can be dressed up with a laminate top in your finish choice.

Dimensions: Dimensions vary
Find the size that works best for you with 2-, 3-, 4-, 5- or 6-shelf models.
Generous depth shelves hold plenty and are ideal for smaller spaces.
Adjust the movable shelves in 1⁄2" increments to accommodate any size item.