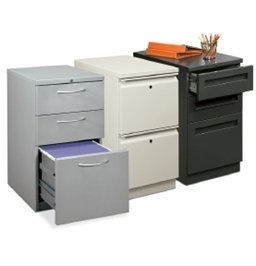 Pedestal Files
Collection: Flagship®
Model Number: H18823, H16720, H18730
Sure, you have a place to store electronic files on your computer, but do you have room for all your paperwork? The fact is, we're not a paperless world. Your office generates paper and you need a reliably efficient means of organizing and storing it. Our durable pedestals provide a place to get organized and store important files and supplies – keeping all the things you need and use every day close at hand.
Choose from four heights, three depths and four stylish handles to create just the right cabinet.
Heavy-duty drawers ensure smooth operation, with full extension providing easy access to contents.
Reinforced front and side double-layer drawer construction guarantees strength and durability.