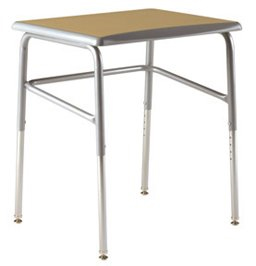 4-Leg Desk

Collection: Accomplish™
Model Number: HCL4DHPB

Now, pay attention class! Our student desks help your students do just that, with their comfortable ergonomic design, and chairs which offer essential lumbar support. Classic good looks, durable surfaces, vivid colors and easily reconfigurable combinations provide a textbook-perfect classroom desk value.

Dimensions: 26-11/16"w x 20-11/16"d

Select cantilever or four-leg styles in desks, seating and combo units to suit your classroom needs.
Desks feature patented ergonomic design with easy-care seamless writing surface, and user armrest and radius edges for comfort.
Full-size chairs with integral lumbar support encourage healthy posture and enhance student comfort.