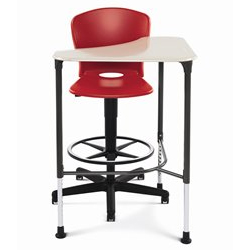 SmartLink™ Student Desks
Collection: SmartLink™
Model Number: SmartLink™ Student Desks, Sit-to-Stand
With the innovative shape of the SmartLink™ Student Desks, you can create dynamic classroom environments. Every class can be tailored to fit the lesson plan whether the need is for individual, student/group collaboration or teacher centered layouts
Dimensions: 28"W x 28"W with Height adjustable Legs; User side 361⁄4"W. Height 30-43"H
Desktop shape differentiates SmartLink student desks from traditional classroom furniture and supports multiple learning styles, right or left-handed users, configuring easily into individual or group layouts. The sit-to-stand desk is a great option for additional collaborative opportunities for group and project meetings.
Adjustable height of 30 to 43 inches in 1-inch increments
Comfort edge on user side and soft radius with rounded corners on all sides
Bell glide standard.