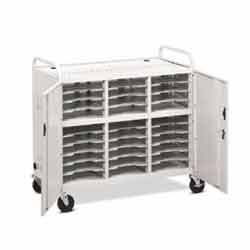 Yesterday's filmstrip is today's PowerPoint presentation, and slides have been replaced by digital files. Today's sophisticated technology requires support systems tailored for modern communication formats. We have the platforms that will support, store and display all your equipment, supplies and literature, making it easier for you to communicate.
Dimensions:22"D x 44"W x 42"H
Fits up to 30 laptop computers – ideal for corporate training rooms and educational facilities.
Doors lock for added security.
Casters provide easy transport.