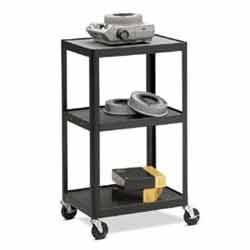 Yesterday's filmstrip is today's PowerPoint presentation, and slides have been replaced by digital files. Today's sophisticated technology requires support systems tailored for modern communication formats. We have the platforms that will support, store and display all your equipment, supplies and literature, making it easier for you to communicate.
Dimensions: 28"D x 24"W x 42"H
Mobile cart accommodates and transports LCD projectors.
Recessed projector shelf puts projector top level with side shelves for easy document transfer.
Folding drop shelves provide workspace for documents.