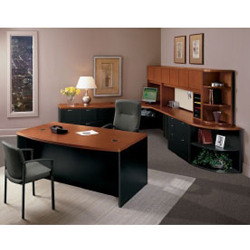 Keep on top of change in today's fast-paced work environment with smart, flexible Valido. Laminate modular components are easily reconfigurable, and boast attractive design details – making Valido a "contemporary classic."
Versatile desk, credenza and return shell options can be reconfigured in countless ways, and still provide generous storage capabilities and spacious worksurfaces.
As personnel and office layouts change, Valido's storage pedestals quickly and easily adapt to a variety of different workplace arrangements.
Personalized storage options allow you to tailor your workspace to fit the particular work you do.
Valido laminate desks meet SCS certification guidelines.