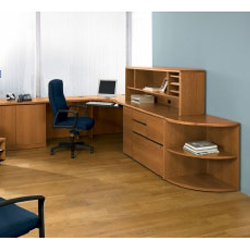 The one constant in today's workplace is that nothing stays the same for long. With every personnel change or reorganization, versatile 10700 Series modular components can be easily reconfigured to support new work demands.
Maximize office layout flexibility with multiple combinations of desk, credenza and return shells, and ample under-the-worksurface storage solutions.
Modular adaptable storage pedestals can be reconfigured quickly and easily as your workspace needs evolve and change.
Increase your efficiency by choosing your workspace storage options with modular components, to match the work you do.
10700 Series laminate desks meet SCS certification guidelines.