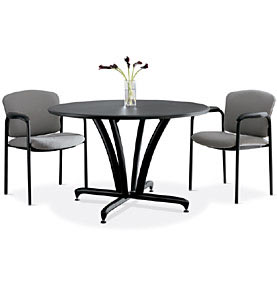 If Tercero had a performance review, it would read "Exceeds expectations." With logical design and sharp sophisticated good looks, Tercero's full line of conference and modular tables, and presentation and meeting room furnishings, performs to the highest standards. Giving you what you need, when you need it – with ease and style.
Tercero offers you the flexibility of two table configuration options: Full-size conference tables or smaller modular tables for configuration flexibility.
Modular conference tables allow a quick and easy switch from a conference table format to an individual team or training set-up.
The streamlined design of our modular table bases features one caster and one glide, so tables are easily repositioned and secured in place.