| | |
| --- | --- |
| Brigade Standard Height Pedestals | (HON) |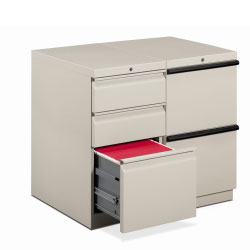 Sure, you have a place to store electronic files on your computer, but do you have room for all your paperwork? The fact is, we're not a paperless world. Your office generates paper and you need a reliably efficient means of organizing and storing it. Our durable pedestals provide a place to get organized and store important files and supplies – keeping all the things you need and use every day close at hand.
Smoothly-operating durable box and file drawers are built to stand up to frequent, daily use.
Easily stores your pens and pencils, and has high sides for side-to-side filing.
Available in your choice of two depths with two handle styles, in a standard 28" height.