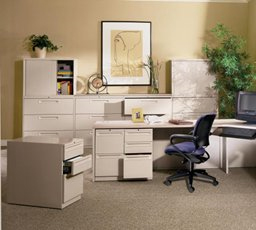 Lateral Files
Collection: Flagship®
Model Number: H9175LS, H9175LSN, H9195, HFSC183664, HFSC183664W
Top-of-the-line Flagship lateral files provide the freedom of flexibility. Choose from our full line of versatile components to achieve the right balance of filing, storage and worksurfaces for your office. Adaptable laterals, storage towers, cabinets, pedestals and bookcases hold everything with style and durability.
Available in heights to match Flagship personal storage towers, bookcases and storage cabinets.
Exceptional durability makes Flagship a wise investment for the long-term.
Ideal for long-term storage, including files, binders and personal effects.
A full line of matching Flagship storage products is available, including pedestals, storage towers and worksurfaces, storage cabinets and bookcases.