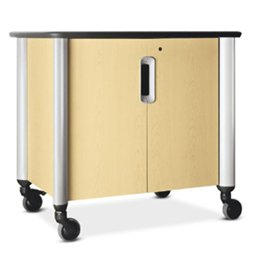 Adjustable Height Podium
Collection: Tercero™
Model Number: HTCE230
If Tercero had a performance review, it would read "Exceeds expectations." With logical design and sharp sophisticated good looks, Tercero's full line of conference and modular tables, and presentation and meeting room furnishings, performs to the highest standards. Giving you what you need, when you need it – with ease and style.
Dimensions: 17"D x 27-1/4"W x 46"H
Our mobile audio visual cabinet and video console provide secure storage solutions for audio-visual units and accessories.
Since people come in different sizes, our adjustable-height podium accommodates multiple presenters with an easy adjustment mechanism.
The attractive wall-mounted presentation cabinet with almost 50 square feet of dry erase writing surface also accommodates paper tablets, and provides plenty of space to make your presentation.