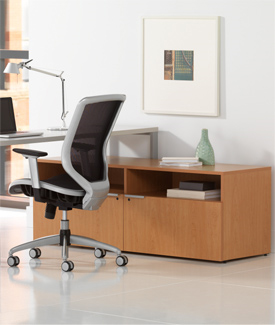 Credenzas

Voi credenzas can be positioned under a desk to create a layering effect that's as visually interesting as it is efficient.
Layering shelves

An optional layering shelf supports pilers who like to keep open projects close at hand, rather than filing them away.
Small Footprint

Office space comes at a premium for small businesses. That's why Voi laminate desking packs plenty of functionality into small footprints. The line includes a variety of storage options—including credenzas that fit neatly below worksurfaces, layering shelves, and brightly colored storage cubes—all of which give you more desk even in a compact space.