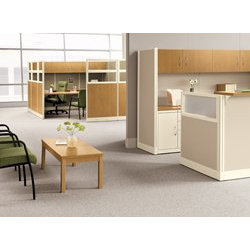 Initiate®
Collection:
Model Number: Initiate®
Initiate.
Simple to specify, order, and install. It provides exceptional long-term value through durable construction, exacting fit and finish, and easy reconfiguration. And it offers several features that reduce its environmental impact.
Simple.
Order an Initiate worksurface & the cantilever supports are included. Overheads are preassembled. Panels ship complete – no trim to specify install or install. Panels attach with an easy universal connector for all right-angle configurations – L, T, or X
Initiate lets you specify up to three segments in a single panel – allowing you to have a similar aesthetic as a frame and tile system without the expense, extra parts, or complexity.
Smart.
Metal frames and trim retain their integrity through years of configuration. Metal-to-metal connections create a solid structure, keeping panels perfectly aligned. Components fit together tightly – and finishes match precisely between pieces, reassuring the customer they made a great choice!
Want more? Initiate provides it! With Initiate, space planners can orient their people any which way. Face in, face out, face the side – whatever fits their style.
Initiate also includes desking components and storage that can be used independently or combined with panels.
Sustainable.
Initiate is certified under Scientific Certification System (SCS) Indoor Advantage Gold™, recognizing its compliance with specific requirements for air emissions. Initiate also meets the BIFMA e3 Furniture Sustainability Standard™, earning levelä certification as a comprehensive evaluation of its sustainability attributes. Finally, Initiate contributes to LEED® credit for offices seeking certification.