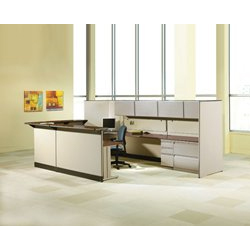 Simplicity II
Collection:
Model Number: Simplicity® II
Our Simplicity® II Panel System is just that… simple. Economical and versatile, this system can function as basic office partitions or as a full-features panel system. Furniture shouldn't be complicated. As the name implies, Simplicity is the answer to your office needs.
Economical panel options provide simple space division or fully-featured workstations.
Complete workstation capabilities including acoustical and visual privacy, worksurfaces, storage and power / data options.
Powered and non-powered panels easily connect to each other, putting power only where you need it.
Factory assembled overheads and shelves units provide additional storage space and coordinate with other HON storage products.
Electrical accessories help deliver power exactly where you need it.