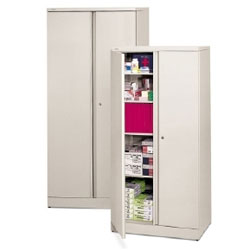 If your desk is the heart of your office, then your storage cabinets are the backbone. With a firm foundation of sturdy, dependable cabinets for storing essential items, important work won't get mislaid under that pile of supplies that belongs in the cabinet.
Choose from three available heights to find the right size for your available space.
User-friendly full-length radius door handle, and security lock standard.
We make it simple for you with do-it-yourself assembly.