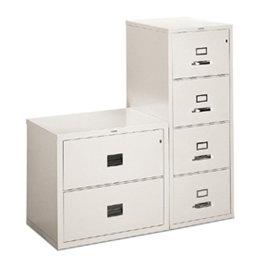 Owning FlameSafe files is like owning insurance. No one likes to think about the reasons for buying it, but we feel better if we have it. We know it's smart to protect the things we value. To keep legal documents, financials or personnel records safe in any eventuality, get the peace of mind that comes with owning FlameSafe.
Fire-tested and rated to protect files and documents from temperatures up to 1,700°F; UL-listed.
Units are insulated in drawer face and between drawers for increased fire-resistance.
Both lateral and vertical files are available in 2- and 4-drawer sizes to fit your space.