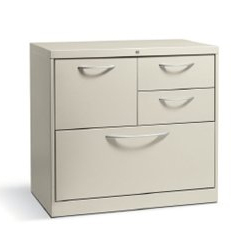 Sure, you have a place to store electronic files on your computer, but do you have room for all your paperwork? The fact is, we're not a paperless world. Your office generates paper and you need a reliably efficient means of organizing and storing it. Our durable pedestals provide a place to get organized and store important files and supplies – keeping all the things you need and use every day close at hand.
Enjoy the convenience and flexibility of a pedestal and lateral file in a single multi-purpose unit.
Versatile box and file drawer locations can be switched as needed.
Your choice of four pulls and two heights to coordinate with other standard Flagship products.